Goin' to a Party, a Childrens Crochet Sweater Pattern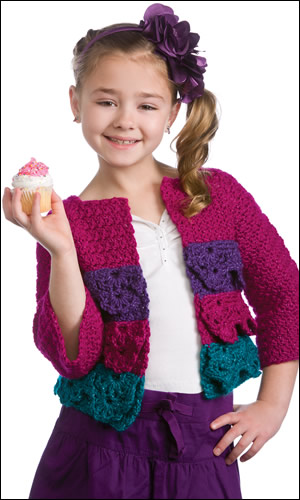 Childrens crochet sweater pattern
This sweet childrens crochet sweater pattern is available in the December 2012 issue of Crochet World magazine. It is called "Goin' to a Party." I designed this last fall for Caron yarns, just before it was sold to Spinrite (owner of Bernat and Patons). Seeing this in print has been a L O N G wait!
Some of the links in this blog post are affiliate links. When you click on one and make a purchase I will earn a small commission at no additional cost to you. See my full disclosure for details. Thank you!
This is made in Caron Simply Soft Party, which is a sparkle yarn that I LOVE! It is by far the softest sparkle yarn I have felt — no itchiness from the sparkle.
This is available in sizes 4, 6, 8, and 10 and uses 3 colors of Simply Soft Party. I just know that there is a little girl in your life that would love this jacket! You know it will become her fav accessory!
The creation of this pattern was a collaborative effort between myself and then creative director for Caron Yarns, Cari Clement. I am so pleased with this pattern and was really excited about how it turned out. I was determined to make this a top-down raglan sweater, and I accomplished that, and this is the first pattern that I wrote with that style of construction.
I'd love to hear you feedback on it! If you make it, I'd be delighted to see pics of it on Ravelry, or on my Facebook page!
Happy crocheting!
Save this for later with Pinterest!